Kush Mints is a hybrid Indica CBD strain made by crossing Animal Mints with Bubba Kush.
The result is a high CBD strain with a unique minty taste.
Kush Mints provides effects that are uplifting and happy.
This strain has a complex flavor profile that tastes like mint and cookies.
Growers say Kush Mints grows best when indoors and done hydroponically.
CBD patients choose this strain to help stimulate their appetite.
What Is HHC? Here's Everything You Need to Know About Hexahydrocannabinol
Right now, we're in the middle of a cannabinoid wave—think delta-8 THC, delta-10, and THC-O. Let us introduce you to the new cannabinoid on the block called hexahydrocannabinol, better known as HHC.
However, HHC isn't exactly new, but it is slowly becoming more and more popular. If you'd like to know all about HHC, how it's made, and if it's safe, then continue reading below.
What's HHC?
The full name of HHC is hydroxyhexahydrocannabinol, which is a mouthful. The thing is, HHC isn't just one chemical but about ten different chemicals that are all very similar.
HHC was actually first created in 1944 by a man named Roger Adams. He took regular delta-9 THC and added hydrogen molecules to it in a process known as hydrogenation.
Without getting too deep into organic chemistry, one crucial thing happens. The double bonds in the THC molecules turn into single bonds.
The same process is used to make margarine, and that brings us the perfect example. THC is like butter, and HHC is like margarine.
What Are the Effects of HHC?
The subtle chemical difference between THC and HHC means that HHC should be able to interact with the endocannabinoid system (ECS). Users online have found that HHC does indeed feel like delta-9 THC.
HHC provides euphoria, mental stimulation, and pain relief like THC. However, users on Reddit find that HHC offers better pain relief, joy, and less anxiety than THC.
Some users found that HHC is more energetic and provides mental clarity.
The potency of HHC is also incredibly similar to delta-9 THC. Redditors have reported that HHC is nearly as potent as THC or slightly less potent.
One thing is certain though, HHC is more potent than delta-8 THC.
Key Points: What is HHC?
HHC is a hydrogenated (semi-synthetic) form of THC
HHC offers similar effects & potency compared to THC
HHC has a substantially longer shelf-life & is more resistant to high heat or UV exposure
The safety profile of HHC is still unclear, but there's no evidence to suggest it's dangerous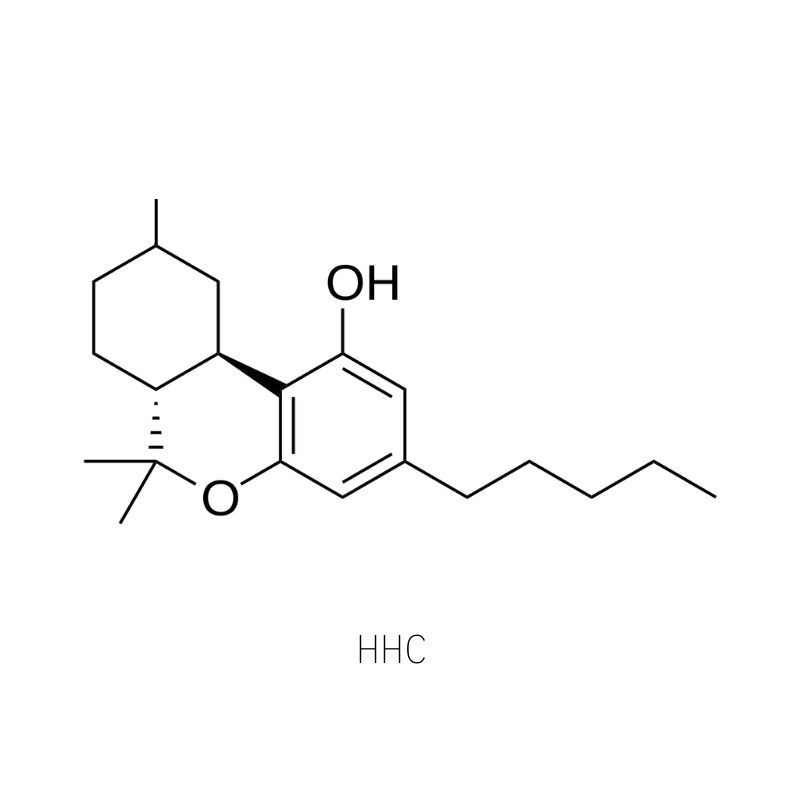 What Are The Effects of HHC?
HHC has very similar effects as THC. It produces feelings of euphoria and stimulation, altered visual and auditory perception, changes in heart rate and body temperature, and altered headspace and cognition.
Many users report the effects of HHC are similar to that of delta 8 THC in terms of being more heavily weighted towards relaxation than stimulation. HHC is more potent than delta 8 but slightly less potent than delta 9 THC.
HHC is still very new, so there aren't many studies available to evaluate its potential therapeutic effects — but so far, it seems this cannabinoid offers most of the same therapeutic effect profile as other forms of THC. There's even been some animal testing that showed beta-HHC possesses notable painkilling effects when tested on rats [2].
The potential benefits of HHC include:
May help manage chronic pain
May reduce inflammation
May promote deeper, more restorative sleep
May alleviate nausea or vomiting
May alleviate anxiety (may also increase anxiousness)
The real benefit of this cannabinoid comes from its impressive shelf-life, more so than its physical effects. It offers very similar benefits to THC but comes in a much more stable form.